Welcome to Special Abilities
| | |
| --- | --- |
| A fantastic day was had by all at Karapiro. Cambridge sailing Club taught a Special Abilities Group all about sailing Optimists. Thank you Craig. It was so much fun. | |
| We Learnt how to set up the rigging.all the names of the parts, how to set sail, how to jibe and how to race. Then we learnt how to tip over and right the boat again. that was the best part ...a dip!! | |
PINHOLE PHOTOGRAPHY
| | | |
| --- | --- | --- |
| | Year 5 and 6 students built their own Pinhole cameras. We headed off to Cambridge High School. We had the most awsome time developing our photos in the Dark room. With time to spare we had a go at photograms, made by placing objects on the Developer and exposing the light at f 25 for 45 sec. Our photos are displayed on the wall at our front school entrance. | |
WEB SITE CONSTRUCTION
| | |
| --- | --- |
| | Mike Malcome, our Principal ,assisting our 'Web Site Special Abilities' group to create exciting pages for each class.A Data projector is displaying the steps to create Web Pages . The students then return to their respective classes to teach their fellow students. Our young learners are given the freedom and encouragement to take ownership for their own creative process |
GOLF
| | | | |
| --- | --- | --- | --- |
| | | | Leamington School's Special Ability Golf Crew show their skills on the Cambridge Golf course after 6 weeks of skill training at the Golf Academy at St Peters |
| | | | Our special thanks to our wonderful parents who continually support our children not only with transport but are happy to join in and impart their own skills and knowledge |
GLOBE is a science/ maths/ environmental program. Students investigate and learn about atmosphere, land cover, phenology, hydrology by collecting data, analysing their findings, drawing conclusions, make comparisons and log their data on the net for international scientists to use. We have an allocation of 8 satellites(Cloudsat) that are constantly photographing and verifying information sent by our students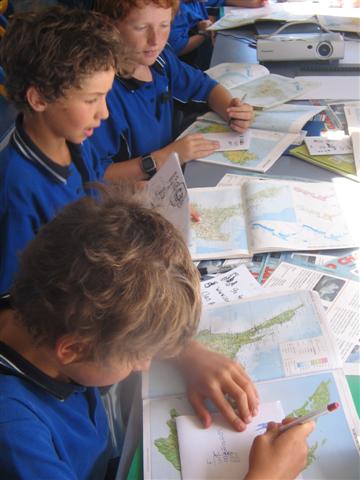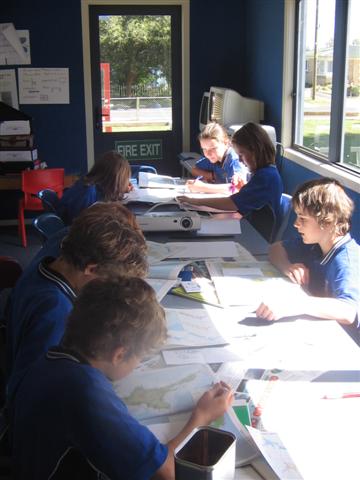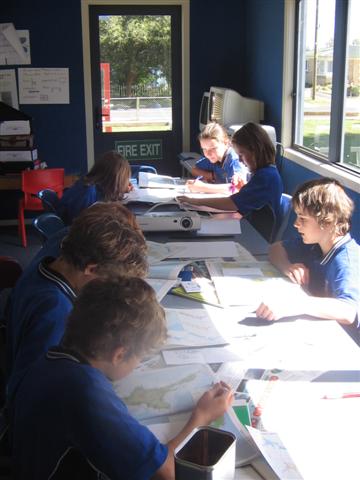 GLOBE students learning to use a GPS unit

| | |
| --- | --- |
| Precipitation data collection | |
| Students converting NZ time into Universal Time Zone | |

24.5 mm of rain water fell in week 8 of the term. Students read from the bottom of the meniscus.

Temperature readings for past week, current,maximum and Minimum recorded. Data sent to NASA scientists

Percentage of cloud cover is tabulated

Satellites ( CLOUDSAT) above confer with children's recordings.
N.E.W.S.
Our very own weather station.
Ronnie and Briony
average their three readings for scientific accuracy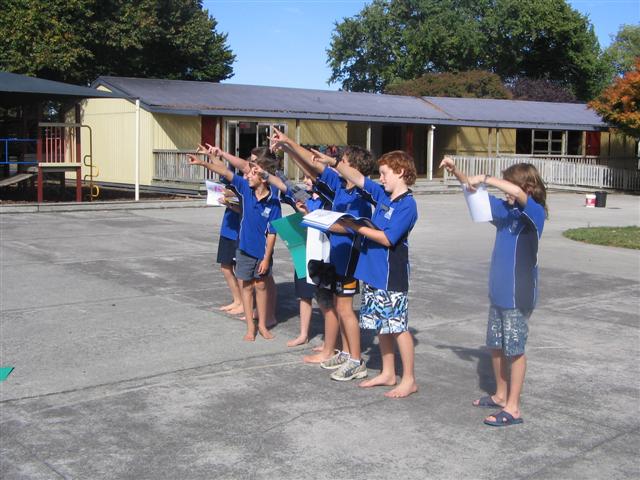 Students are identifying Cloud Types.Depending on the atmospheric zone
and cloud type, they are able to predict weather for the day .
ENVIRO SCHOOLS NURSERY AND PLANT GROUP
First we decided we all wanted to grow some winter vegetables. After a search on the net we planned our selection . Beans, peas, onions,beetroot,celery,leeks, and a selection of Herbs were the hot choices.

Mr Conelly , Zac's Grandad helped us locate some boxes and Philps put some top soil in them. Soon our nursery platter boxes were ready for planting.

Paul, Zacs Dad also helped us by giving us the boxes and bringing them to school. Thank you so much to you both